15th May 2019 | by AmpleBosom.com Team | Google+ | posted in Clothes Styling
We have a good selection of plus size holiday and Summer clothes from Doris Streich. With short sleeved tops and cropped trousers that are perfect for the warmer weather and packing for your holiday away.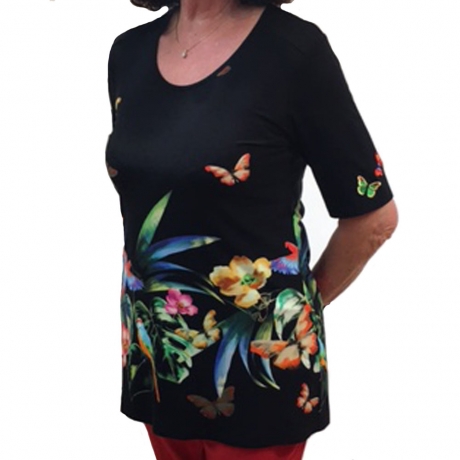 Butterfly Tunic Top - Short sleeve womens top made from soft viscose for a flattering look. In a tropical print on a black base to be match with any colour bottoms. Now with 10% in sizes 20, 22, 26.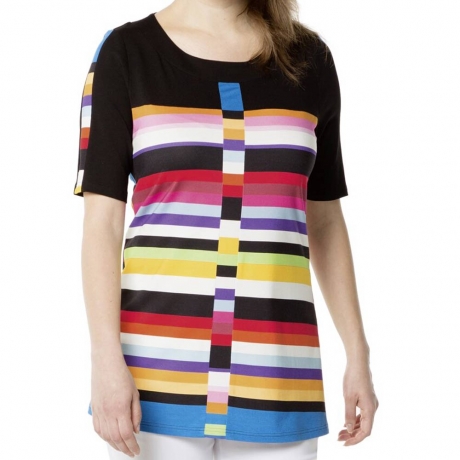 Rainbow Striped Tunic Top - Rounded neck top with colourful print and asymmetric detail to the front for a chic look. Made from soft stretchy viscose. Perfect for holiday wear. In sizes 20, 22, 24, 28. Now with 10% off.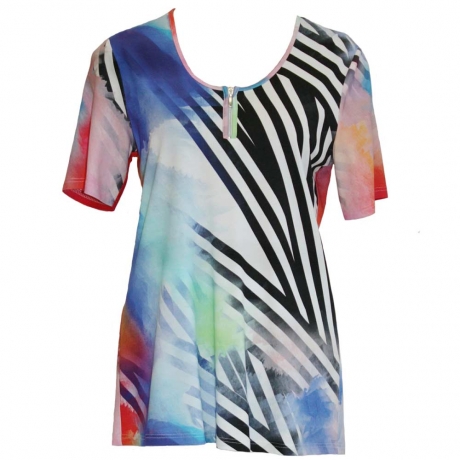 Tie Dye Zip Detail Top - In a colourful tie dye print on a black and white base, this tunic top is perfect for holiday and every day wear. With rounded neck finish with 3.5 inch zip opening for fashionable look. Perfect for fuller figure ladies in dress sizes 20 to 30, now with 10% off.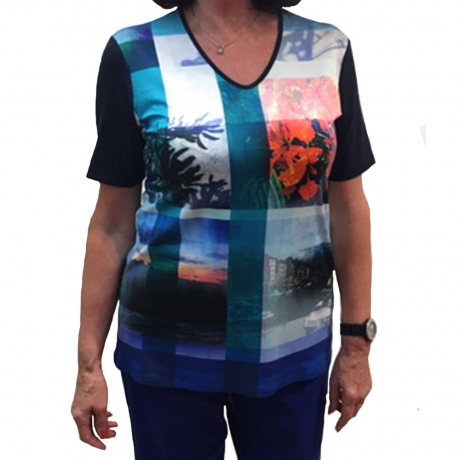 Photo Collage Tunic Top - Short sleeve ladies top made from soft and stretchy viscose in a modern print perfect for every day wear. Available in dress sizes 22 to 30 now with 10% off.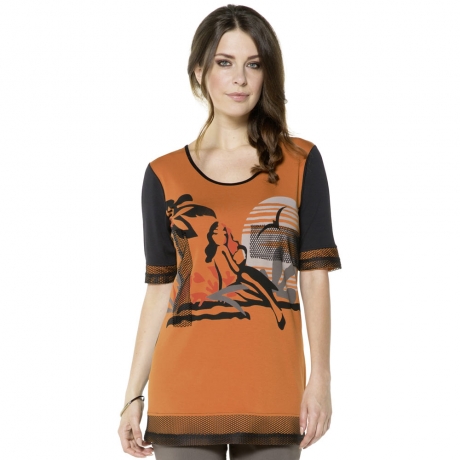 Short Sleeve Top - Plus size, flattering t-shirt showcasing a relaxed island scene in a rich orange tone. Finished with fashionable net trim for that designer Doris Streich touch. Now with 60% off in sizes 20, 28, 30.
You can team up your Doris Streich top or tunic with the cropped trousers that are just perfect for Summer.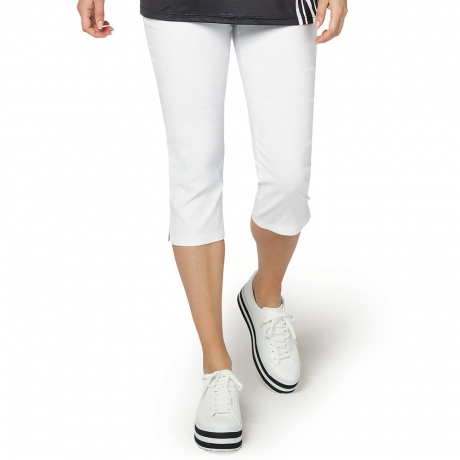 Pull On Stretch Capri Trousers - Pull on womens trousers by Doris Streich. Made from stretchy fabric for a great fit. Capri length perfect for summer and holiday wear. In white,
We have a great range of Summer Cropped Trousers available in plus sizes which are ideal for this warmer weather. Cropped trousers are a must have for all ladies summer wardrobes. Fashionable and stylish great for daytime or evening wear and perfect for packing in your suitcase for your Summer hols! Stay cool and fresh from Spring through to Autumn. They are available in a wide range of colours and styles.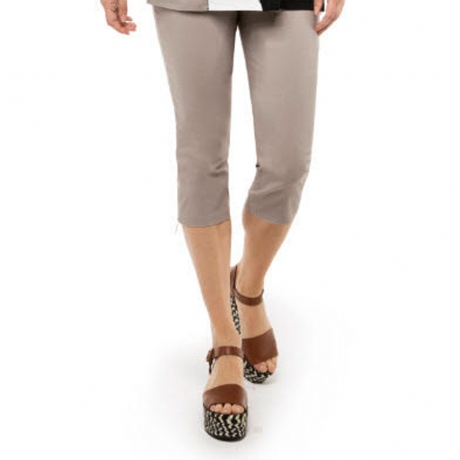 Slim Fit Cropped Trousers - Available in sizes 18 to 30 in black or white and sizes 22, 26 in beige and sizes 20, 22, 28 and 30 in light navy. We currently have 10% off the slim fit in light navy so grab a bargain today.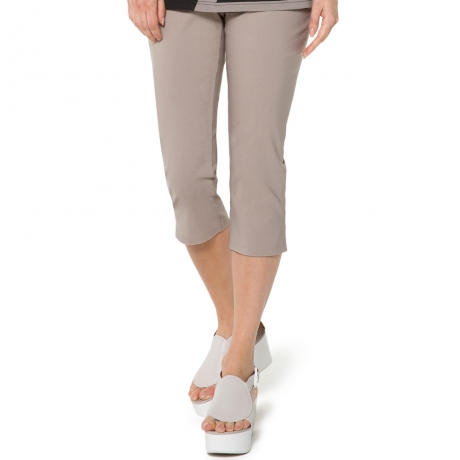 Summer Cropped Trousers - Available in navy, black, biscuit or white in sizes 16 to 30. We also have these cropped trousers available in sand, raspberry, taupe, yellow and aquamarine in limited sizes so now reduced in these colours. We have also introduced red, royal blue which are in stock today.
If you have any questions about this Doris Streich range of Summer tops and cropped trousers then please get in touch on 01439 798388 or email Sally@amplebosom.com and we will be happy to help.