8th November 2018 | by AmpleBosom.com Team | Google+ | posted in Product Reviews
We just wanted to let you know we have we now have 20% off the Elila Jacquard Soft Cup Bra in red, blue and lilac, whilst stocks last.
The Elila Jacquard Bra is certainly a popular bra here at AmpleBosom.com and we are not surprised, as this bra gives full coverage and comfortable support and has an improved strap buckle design to reduce strap slippage.
The Jacquard Bra by Elila is one of our best selling bras.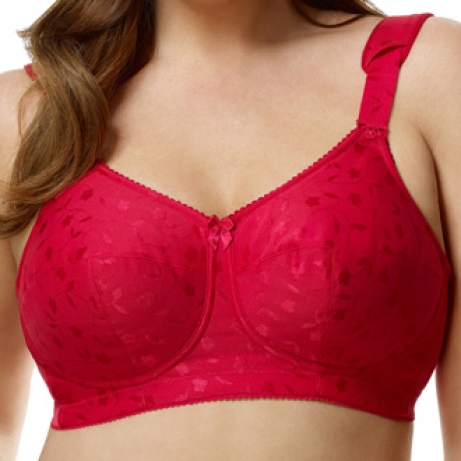 This non wired bra gives full coverage and comfortable support.
Available in nude in sizes 36 to 50, cup sizes F to N. Also available in black, white, blue, mocha, red and lilac.

What customers have highlighted as good about this bra includes:
* Good fit
* Bust is well supported
* Bust is lifted well
* Very Comfortable
* Adjustable straps
* Feel very secure
* Nice colours
* Great coverage
* Deep sides help shoulders
* 5 hook back is good
* Gives good shape
* Broad band helps relieve shoulders
* Shoulder pads comfortable
* Washes well
* Wears well
* Reduces bounce
* No bulges
We have received a lot of reviews for this bra which you can read on the product page for the Elila Jacquard Bra.
If you would like any help and advice about the Jacquard Bra by Elila then contact the Ample Bosom office online, via email sally@amplebosom.comor on 01439 798388 and one of the team will be more than happy to advise you.

Don't forget to regularly check your bra size as this is key to getting the perfect fit, so why not chat to one of our friendly experts to make sure you are measuring your bra size correctly before you order.

The Ample Bosom team will make it easy for you! Call Direct on 01439798388