11th February 2019 | by AmpleBosom.com Team | Google+ | posted in Special Occasions
As we approach Valentine's day, love is in the air! With this in mind we thought we would share our great range of bridal lingerie sets and wedding underwear for that special day. If you are the bride, mother of the bride/groom or a guest we have the perfect lingerie for this special day.
All ladies know how challenging it can be to find a bra that fits perfectly, so when you have a criteria to meet too, this can become a near impossible task for some of us! We canít stress enough how finding good fitting underwear for your big day is as important as finding ĎTHEí dress.
Itís important to give yourself plenty of time to invest in your wedding lingerie, preferably before your final fitting, so you know that your dress will fit you, and fit you perfectly! The right underwear can transform how your dress will look and how you feel too, although hidden out of sight itíll be your hero of the day.
In this blog we will run through plus size lingerie solutions for brides with a fuller figure! From sensual shapewear to strapless bras, lingerie accessories and a few collections to spice up your honeymoon too!
What sets AmpleBosom.com apart from the high street is that we specialise in plus sizes, we source quality bras and matching underwear in sizes larger ladies would struggle to find in their local store. Whatís more we pride ourselves on excellent customer service, helping women across the globe find good fitting, stylish lingerie in their size. We promise to make shopping for your wedding lingerie a very special occasion.
We have picked out some pretty bridal lingerie for your special occasion.
Elomi Maria is a stunning lingerie set of bridal underwear available in plus sizes. The collection includes Maria bridal wired strapless bra EL8500 and full brief EL8505.
The luxurious satin and lace detachable strap bra perfect for bridal or occasion wear. Comfortable spacer fabric bra with lined cups and inner boning for added support in cup size DD-HH. The matching lace bottoms are available through to dress size 24.
Maria by Elomi is a truly stunning choice of underwear to make you feel confident on your perfect day, the collection is finished with beautiful lace overlay for that added touch luxury on your special day.
Elomi Maria Strapless Bra + Elomi Maria Briefs
We have longline bras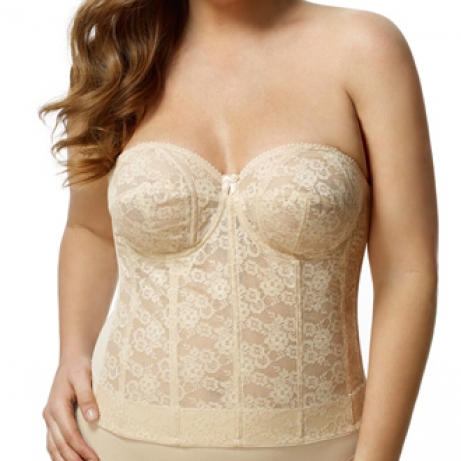 Elila Lace Strapless Longline - Stunning strapless bra in a feminine lace fabric, with spiral and metal boning all the way around for shaping, control and support. A longline bra that can be worn all day and night. In nude, white or black in sizes 34 to 46 B to H.
and bodyshapers or corselettes to shape your silhouette under your bridal dress or that special occasion outfit.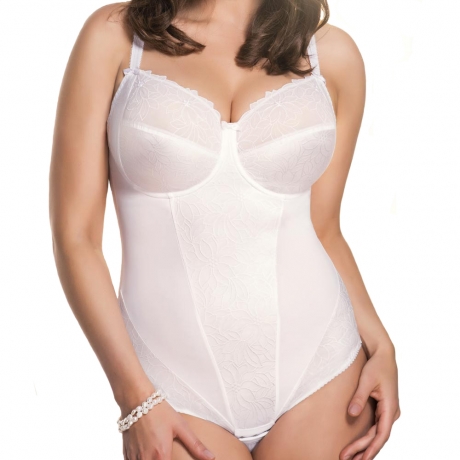 Amelie Body - An elegant wired bodyshaper with jacquard detail available in plus size. The body sculpting shapewear is designed with full cups and a firm front panel for tummy control. The two sectioned cup feature and side panels gives you a fabulous hourglass shape, a corset offering firm support and extra control. In white in cup sizes B to G.
The Empreinte lingerie collection is perfect for bridal lingerie or special occasion underwear.
The Empreinte Erin Bra Set - A classically designed Empreinte bra, featuring dotted tulle and floral lace this is an ever so elegant bra, you have a choice of low-necked or full cup bras from the Erin collection meaning you can choose based on your shape and the style of your dress. Empreinte is a luxury lingerie brand that specialises in plus sizes, they promise to give you ultimate style and practicality too. Complete the look with Erin Brief, Short, Thong or Panty.
Take a look today at the full Bridal lingerie collection we have picked out for you. Here weíve featured just a selection of bridal lingerie thatís available for you, we understand that every dress and body shape is different thatís why weíre here to help. Give us a call on 01439 798 388 to talk through your options or book yourself in for our bra fitting service and weíll help you find the wedding lingerie set of your dreams!