13th January 2018 | by AmpleBosom.com Team | Google+ | posted in Bra Recommendations
6 Best Sports Bras for Large Breasts
We first posted about our 6 best sports bras back in 2017 but as we have now moved into 2018 and many of us will turn our attention to keeping fit we just thought we would remind you about some of our best sports bras, especially for large breasts.
The benefits of regular exercise are well documented, and we all know about them! Clever advertising campaigns for everything from fitness drinks, to trainers and gyms keep us universally reminded. For many women however, the bounce factor for bustier women can be a huge obstacle between them and getting fit.
After all, who fancies going for a run when every single step and movement turns into pain? For many, existing sports bras in the marketplace simply aren't up to the job of providing the support and comfort we need when exercising. Not only can an inadequate sports bra provide discomfort, it can also lead to some pretty serious health implications.
Many sports bras, which have not been specifically designed and built to carry the weight of large, heavier breasts – have narrow straps. These straps in turn apply excessive pressure on the shoulders, which can lead to a thoracic outlet syndrome by putting too much pressure on blood vessels and nerves in the shoulders, of the upper arm. Symptoms of this syndrome can include arm, hand and neck pain.
To save you trying the wrong sports bra and suffering as a result, we have gathered the very best plus size sports bras and tried them ourselves, real women – doing real exercise. Here is our pick of the bunch:
Designed specifically for high impact activities, this bra is one of our best sellers and features a revolutionary underwire construction which finishes below the neck edge of the bra, allowing extra supportive bust separation. The cup itself is made up of four different sections and includes extra side support and sweat wicking materials. As an added bonus, this bra also features a jay hook which allows the wearer to choose between straight straps or racer back designs.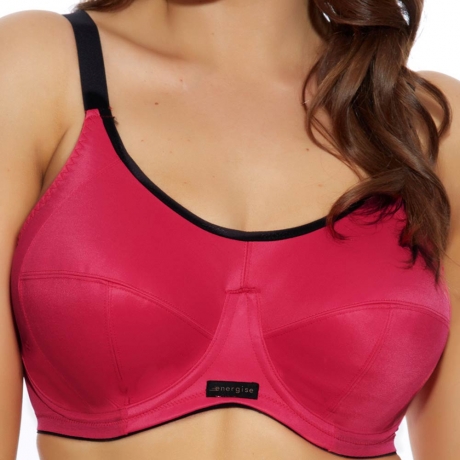 The Kate underwired sports bra, designed by Ulla Dessous is perfect for high impact activities, including running. Extreme comfort is provided from the high quality materials and unbeatable control is provided in the way that only an underwired bra can provide. Features of this bra include Ergonomic release straps, large side support panels, layered cups for a moulded fit and slimming effect seams. The material of this bra is anti-bacterial, meaning that hygiene and odour are kept in check! Cup size runs to an L cup.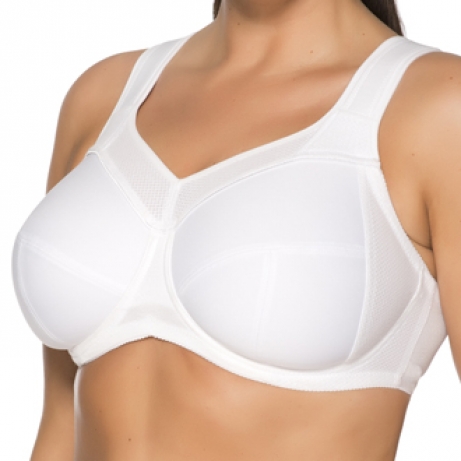 Kate Underwired Sports Bra (this is a wired sports bra) We also have a soft cup version - Kate Sports Bra.
This is one of our bestselling sports bras, it's designed for intense activity and its seam free cups are made from cotton which is kind to the skin. Support is provided by an under band, meaning high impact sports are absolutely fine. This bra's deep centre gives excellent separation and its stretch straps with velcro adjusters make the top incredibly easy to adjust, meaning you can find your perfect fit. As an added bonus, the straps are also constructed from gel, which provides further comfort.
This bra is perfect for women looking for a good level of upper bust control, good levels of coverage across medium impact sports. The open mesh design provides a very welcome, breathable containment and support, whilst ensuring you stay cool and dry. As expected, the straps on this bra are nice and wide, providing excellent levels of comfort.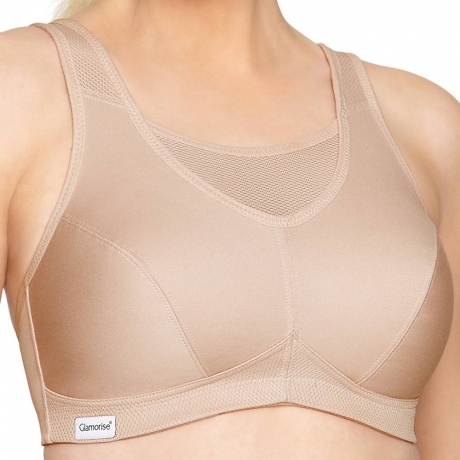 The Freya Active non wired sports bra is the perfect companion for everyday gym workouts. This supportive yet forgiving bra features soft cups, mesh panels, and adjustable straps. The flat bottom band provides firm support for your breasts during workout, whilst the inner sling runs to the shoulder strap, effectively reducing bounce. Overall a great alternative for women who aren't huge fans of underwired sports bras.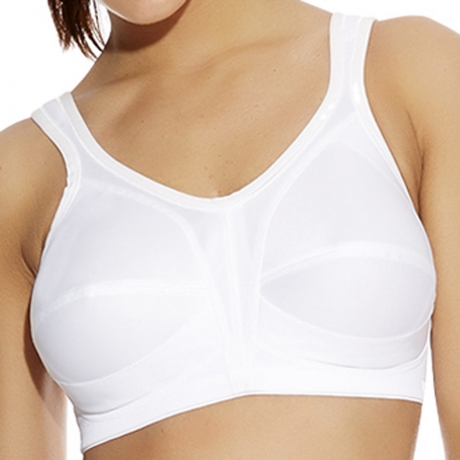 This Bra is perfect for high level activities, such as jogging, horse riding and tennis. Three section, tailored cups have a crescent shaped side support, which creates a brilliant bust shape alongside maximum support and comfort.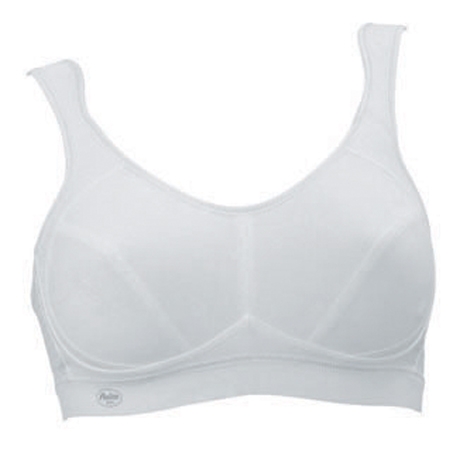 Sports Bras at AmpleBosom.com
The above sports bras are loved universally by our customers and staff, many of whom choose to wear a sports bra all day, every day. As well as gym workouts, bear in mind these sports bras are also perfect for low intensity activities such as walking, they also make the perfect option for activities such as horse riding and cycling.
As always, if you have any questions – get in touch and we will be happy to help. Call us on 01439 798388 or email Sally@amplebosom.com.